We are listing Honey, her filly Candy, and Honey is bred back to Kaycee for 2012. This mare was bred when we purchased her - Candy is a foal from the stallion of her previous owner. We thought we had her sold, but since it doesn't seem to be working out right now, we are re-listing her.
"Honey" is a very nicely built palimino mare with a sweet disposition, excellent hip and bone, who foaled a beautiful light buttermilk buckskin filly
on March 24, 2011. This filly (Candy) has a soft eye, good bone, beautiful head, pretty color and a wonderful pedigree. She should mature to 14.3 or 15 hands and be a solid mare.
Candy's sire is a 15 hand buckskin. She has Hollywood Dun It and Sweet Sandy Tivio on her papers - with Hollywood Jac 86, Blossom Berry, Jessie Tivio and Zans Diamond Sun on the fourth, with Easter King, Zan Parr Bar, Poco Tivio, Docs Jack Frost, Peppy San Badger.
Cee Golds Honey, Candy's mom (aka "Honey"), is a 14.3 ranch bred palimino mare, with lines back to Skipper W, Tonto Gill Bars, King, Hancock - and Seabiscuit! She is a real non-alpha mare, was ridden as a youngster, and at 6, is still young enough to be put back under saddle after next year's foal. She leads, loads, clips, halters, ties, and trims..
SPECIAL PRICE UNTIL THIS FALL: Honey is bred to our 94% NFQHA/AQHA dun stallion. Mare is $1000, with a LFG; filly is $1000; or get a fabulous 3 for one package for $1500!!! 2012 foal will be a dun - could possibly be a dunskin!
Click below for Candy's and Honey's pedigree - call or email for additional information and/or photos!
http://www.allbreedpedigree.com/honeysfoal
This is the pedigree of the sire to Honey's 2012 foal - Pocos Mr Kaycee:
http://www.allbreedpedigree.com/pocos+mr+kaycee
Candy had her first halter lesson and was wormed on 05/08 - the photos really don't show how thick she is - but she has good bone and is going to be a very nice riding size mare: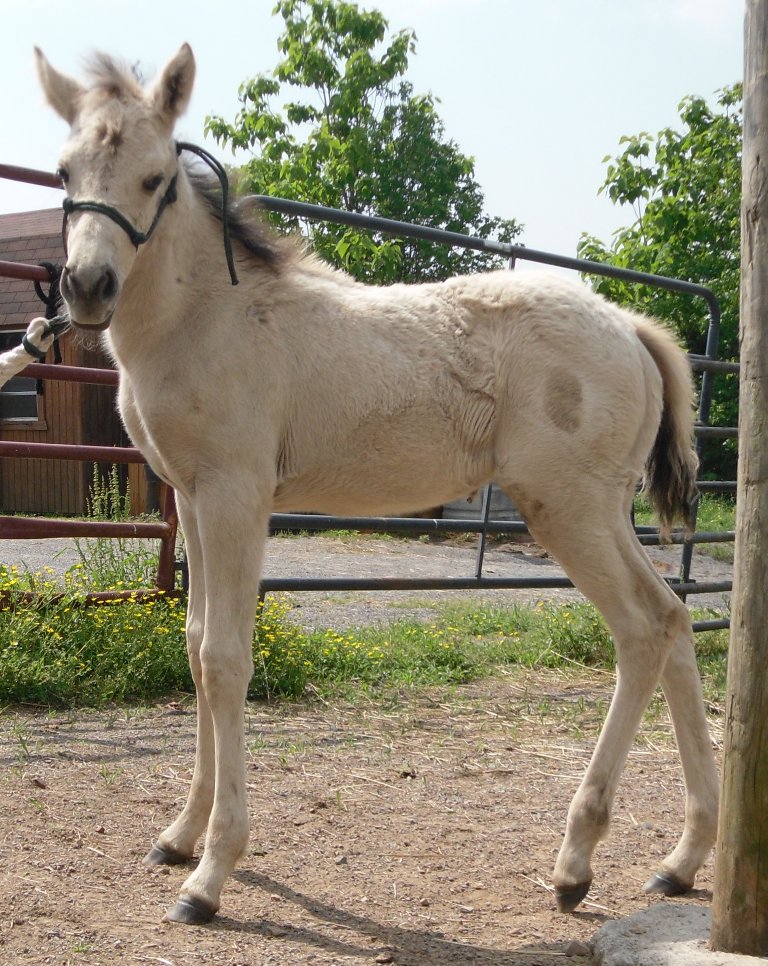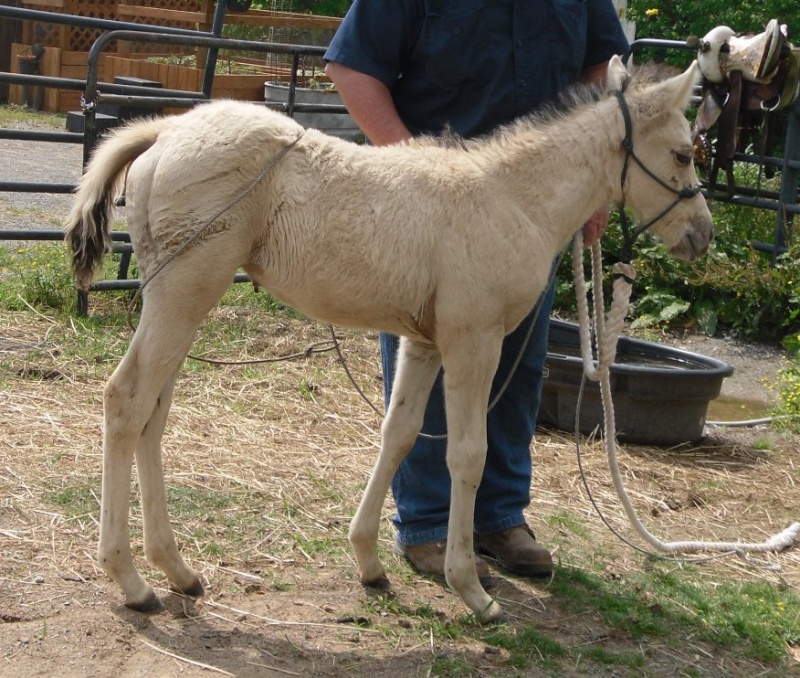 Honey is a nice size mare - and thick - she has a good personality, pretty head, and should have a dunskin next year: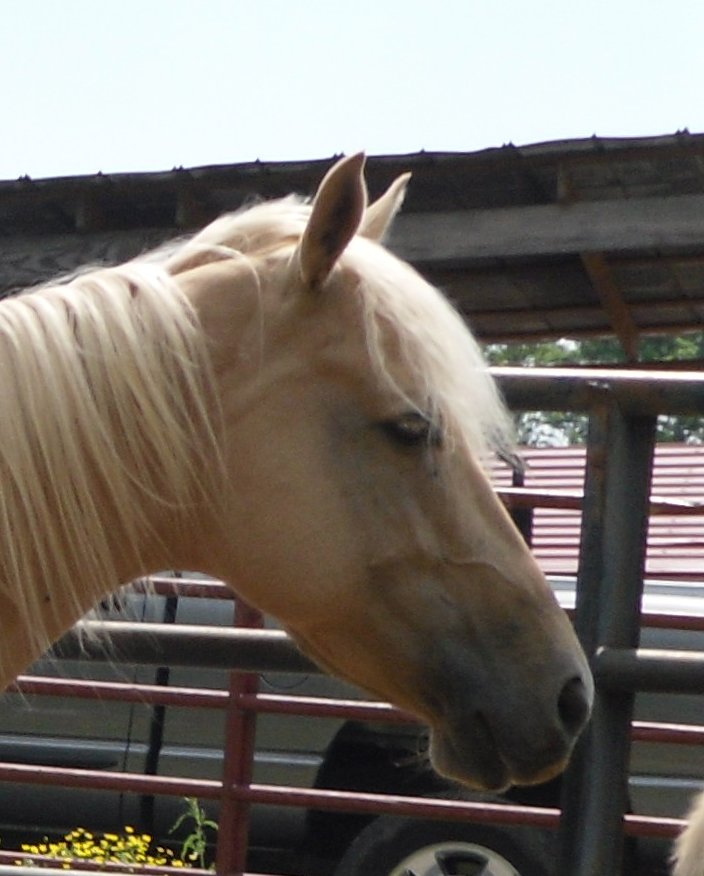 This photo was taken two weeks ago - yes, she loves to eat - but look at that build after she had foaled...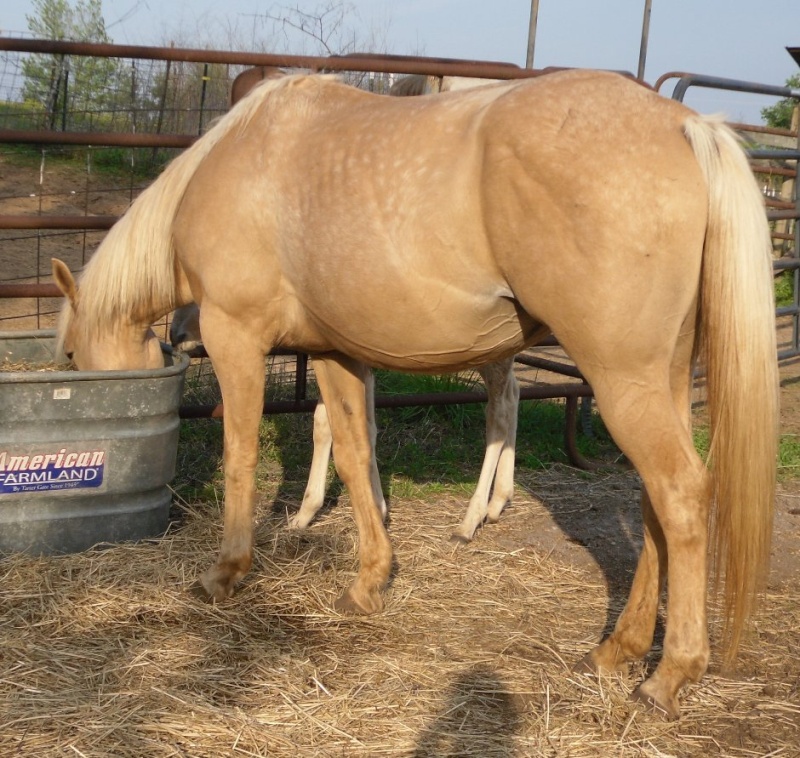 Anyone interested can email me - or see more photos - including Kaycee - on this site:
http://home.earthlink.net/~vpgann/