This is his ad... If you know of anyone who can help, please send them our way...
description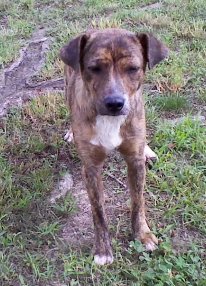 NOTE: Due to the fact that we currently have four dogs which we responsibly nutered or spayed, Oliver - who was "dropped off" at our house 10 days ago - needs a new home by June 18th, or we will be forced to take him to a shelter, where his options are not good. It is nothing that he has done - we just don't have the time to work with FIVE dogs, some of whom are rescued strays.
This is a wonderful little dog who does not deserve to die because some irresponsible human not only allowed his mother to be bred, but then failed to find him a home and dumped him off to become someone elses' problem. If you can help at all by taking him - even just to foster - please contact me. His story is below:
~~~~~~~~~~~~~~~~~~~~~~~~~~~~~~~~~~~~~~~~~~~~~~~~~~~~~~~~~~~~
My name is Oliver. My foster mom found me when someone dropped me off on the lawn. I am a small dog - about 6 - 9 months old - and always dressed in my finest with a brindle coat, four white toe tips, and of course, my beautiful white chest. I am male, with soulful eyes, a gentle and very sweet disposition - I get along quite well with the other dogs here - and I am very respectful toward humans.
As of Saturday, June 10th, I have been wormed, treated for fleas, and had my first bath!!! I will sit for treats and on command, will do a down command, work on leash, come when called, and am doing fantastic at crate training - I slept all night in one for the past three nights without a sound... and I learned all of this in just a week! My mom says I am a very smart dog, and she is quite pleased with my progress.
As much as I like my foster family, I am looking for a family of my own; someone who likes to play, go for walks, and of course, toys, treats, and snuggles. I will probably work best with a family without cats or small dogs ( I do enjoy chasing them even though mom says it is wrong..) - but bigger dogs I love to play nicely with.
Right now I am the size of a Jack Russel and will probably not be a big dog! Mom thinks I am an American Staffie - possibly mixed... However, I am told I already have a huge heart and give a lot of love..
Want more information - call my foster mom - she will tell you all about me and send you more photos. PLEASE open your heart and home to me - I promise to be a loyal, loving part of your family that you will never regret adopting..